Looking for a solution to your test project?
As your solution partner we analyze the specification of your test object, design the project and implement it – up to complete integration into your production process.
Analyzing and planning the test
Conception of test hardware
Creating the test programs
Integration into production process
Training und support
How we implement solutions…
Turn-key solutions
The end-of-line test is the last step in the production chain. The findings of the EOL test can be used to improve the process quality in upstream production steps, if appropriate data records and data analyzes are carried out. A meaningful functional test, therefore, apart from the good/bad selection mainly makes an evaluation of statistical data and trends.
In our solutions we fundamentally consider
Accuracy of measurements
Stability of measurements
Speed optimization for highest throughput
We create high-quality solutions for our customers based on our own hardware concepts. We use suitable and common instruments on the market and integrate them into our solutions. Standard interfaces such as GPIB, PXI, LXI, USB, RS232 but also special interfaces are used. In our Tecap Software Platform, all devices are integrated and can be used on a high-level via the user interface.
---
Automotive
Test of a Keyless Entry DCS ECU
Short description
A global supplier for the automotive industry needs to test a door controller with keyless entry functionality.
Kommunikation Keyless Entry
The ECU sends on 433 MHz or 426 MHz. Important while analyzing the signal is the frequency modulation gfsk and encryption. Additionally the transmitted message is manchester encoded. The received and transmitted signals are checked.
The antenna in the RF chamber is calibrated by a golden device.
Application adapter
The DUT is connected with the test rack by a hardware interface. The test rack has 18 slots; six are used for the application. The application is controled by the test rack bus and the DUT is connected to the internal tester instruments. Additionally the test rack contains signal conditioning cards between the PXI instrumentation and the DUT.
Hardware
Platform is MTQ Hilerion
PXI Instrumentation
Pickering Matrix
NI – DMM
NI Vectoranalyzer
NI Vector Generator
MTQ Power Distribution
CM50 Floating Range Current Measurement Unit
Lambda Genesys Power Source
Application
Communication between the simulated key and the ECU
extensive CAN bus communication
a lot of high current channels for mirrors and window lifter motors
testprogram life cycle from the first sample to the final tested repetition part
Documentation
System description
User manual
Risk analysis
CE-decleration
RF-chamber measurement protocoll
Electric diagrams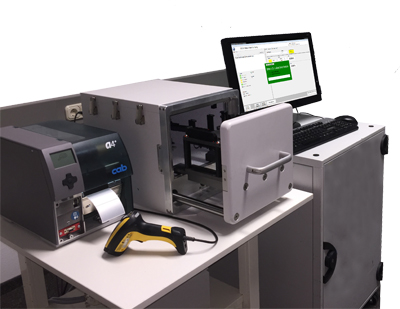 RF chamber internal view The chamber is SPC controlled. DSUB filter connectors to suppress DUT or signal generator high frequency radiation.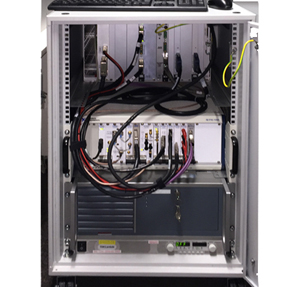 PXI Chassis with measurement equipment and application rack
---
ECU for keyless entry and another different ECU – application on one platform
Applications based on the test extension rack TEX09 normally don't need too many slots. Therefore there are many slots for further applications available. For our automotive customer we could not only plug in the application for keyless entry but also place another application cost effectively into the same test rack.
The application is without additional changeover effort selectable by loading the appropriate test software package.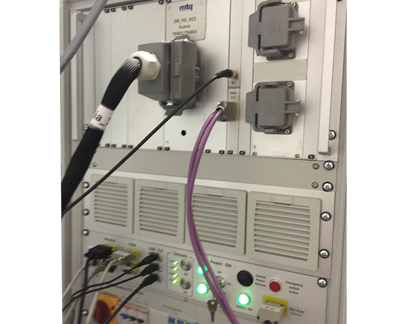 Cabinet view to application connectors. You see the cable for the DCS application and the connectors for the duplex adapter.
Duplex adapter with asynchronous handling
Semi automated test of power plant control room systems
MTQ Project
Concept definition
Administration
Wiring and assembly
Documentation
Tecap

Project Facts
partial automated test of 80000 signals for 200 cabinets
Parametric visualising of so called "Typicals" = standardized measurement tools for Analog-in or analog out, binary inputs and – outputs, simulation of motors and impulsions
Mass signal generation
Technology
System- platform: PXI/LXI Switching System
Pickering Matrix 3072 x 64 (24 Matrices á 128 x 4) extended by Multiplexer 5 x 32
LXI – Backend Matrix 64x48
Signal path interconnection Wire Wrap wiring of 24 Matrices (24x128) to 32 connectors (32x96)
Test cabinet front view
---
Semiconductor
Sensor test on wafer
MTQ Project
The technological challenge has been the precise measurement of resister networks. The expected quality of the measurement result didn't allow to realize result calculation out of different values. Therefore MTQ developed a guarding concept for the 7 1/2 Digit DMM. That enabled these high accuracy measurements. The guard amplifier is connected via the system matrix to each of the relevant nodes.
Concept definition
System development
Wiring and mounting of matrices, measurement equipment and porbe card
Test development
Factory integration
Documentation
Technology
19" cabinet with power management
PXI matrix system
DMM 7 1/2 digit Keysight 34470A
Präzisions MTQ guard amplifier isolating R-Bridges for a measurement precision of 0.001%
VXI 4Q U/I Source PX773x
EG Waferprober
Tecap

Project Facts
Tecap

Test & Measurement Software
Measurement of the sensors with Autorouting

Tecap

Switching
Control of EG Waferprober and proccess management
Datalogging and WaferMapping
Connection to customer database
Test system with waferprober EG
---
Further Applications
EMS / Automotive
Platform: Customer system
System integration and test program conversion
Standardized replacement of old solutions
Increase of throughput saves test time by 56%
Mobile energy solutions
Intelligent batteries and charger
System platform: PXI-Rack, Pickering, NI, a.s.o.

Tecap

performs as the general solution from ground up
Communication with DUT
Industrial electronic motor control
System platform: MTQ customer project based on TEX09 with PCI/IEEE measurement equipment
CANopen communication
On Board Programming